If you rely on your website to generate leads or sales, SEO needs to be top of mind. Website traffic leads to increase views, which leads to engagement, which leads to leads and sales. Search Engine Optimization (SEO) falls into the "owned" search engine marketing category, not to be confused with "paid" search engine marketing. Here are three things you can do to boost your website's SEO today and start generating traffic, views, engagement, and sales.
Here at Q6 Media, we've been managing websites and SEO accounts for over a decade and have generated millions of dollars in sales as a result of our efforts.
If you are posting content on your website, but are not getting the results you want, it is likely related to SEO. In fact, you may not be alone. One study found that 94.3% of nearly 2 million websites did not receive ANY organic traffic from Google searches, which is directly related to their SEO. This is a significant loss of opportunity for most businesses, but one that is relatively easy to correct with proper professional guidance.
We have built our own SEO strategies to reach over 2 million people per month and have consulted with major businesses to help them grow and implement our SEO strategies.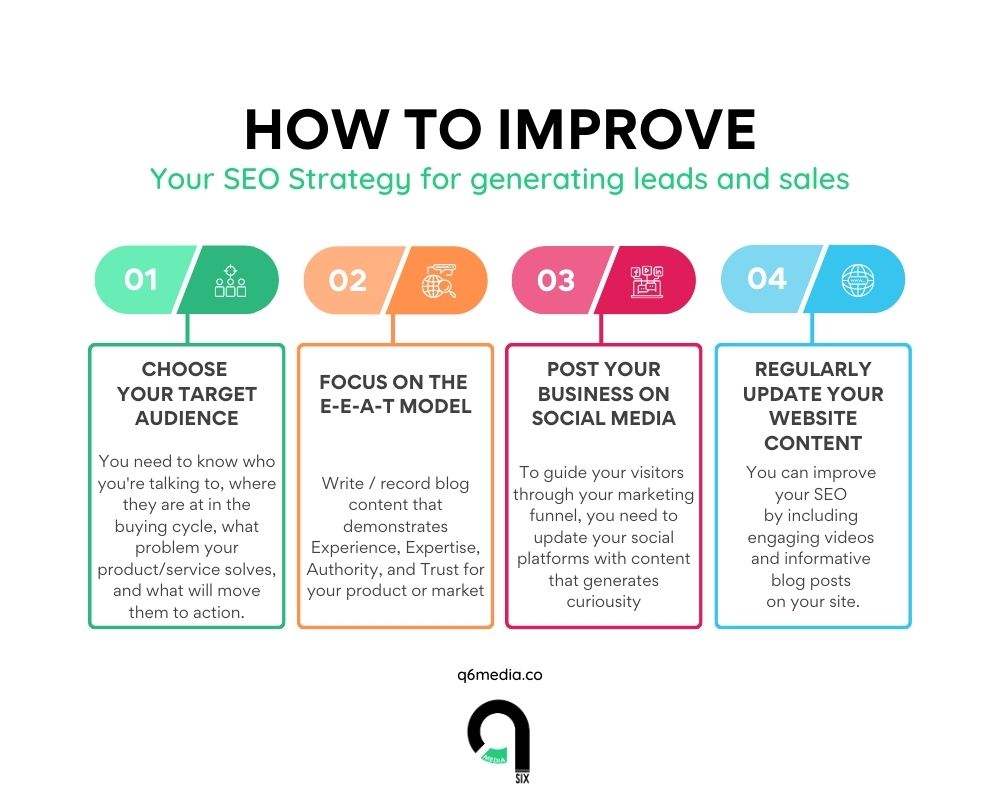 Here are 3 things you can do today to start driving traffic to your website with SEO.
E-E-A-T Model
Like many search engines, Google ranks unique, quality content that meets certain criteria. According to some studies, around 90% of searches are conducted on Google as opposed to other search engines. So, understanding how that content is ranked is imperative for getting your website and content ranked high in the organic search results. Their latest ranking method is the E-E-A-T model.
Experience – the extent to which the content creator has first-hand experience in the topic
Expertise – the content creator's level of expertise, skill, or knowledge on the subject matter
Authoritativeness – the reputation of the content creator, or website, as a reliable source
Trustworthiness – the website's perceived accuracy, honesty, safety, and reliability
Your website along with each piece of content you produce, especially articles or blog posts, should cover each aspect of this model to ensure it is picked up by Google and other search engines. These are also practical measures for instilling confidence in your audience.
Post Regularly
Posting regularly and consistently on your website has many benefits. For starters, it adds a great deal of value for those that visit or subscribe to your website. Consistency is imperative for a website as much as it is for individuals, and it keeps them engaged with your work. It establishes your branding and brand recognition. It also makes Google happy.
More technically, posting regularly increases website indexing. With each new piece, search engines that find your work begin tying your content to your website in various ways. Web indexing helps establish you as a trustworthy authority with the more that is found. Be sure to cover various topics alphabetically (A-Z) to boost your ranking.
Example: Imagine your website is dedicated to meal prepping. The more topics and recipes you cover in regard to meal prepping the higher your website will rank. Of course, your website is not the only one producing meal-prepping content, so you will have to continuously produce more content in your field in order to outrank other similar websites. Your content will also have to cover topics A-to-Z, from apples to zucchinis, and everything in between, including unique applications of those foods.
Latent Semantic Indexing
Latent Semantic Indexing (LSI) is the use of words that are correlated or conceptually related terms that search engines and people search for and rank. Although there is debate within the SEO field as to whether search engines are able to weigh these semantic word choices, it is likely that humans do naturally weigh them.
Example: Imagine that your website is dedicated to cooking. When you write about your favorite chocolate cake recipe you will obviously want to first include all parts of the recipe such as the flour, sugar, unsweetened cocoa, baking soda, milk, eggs, etc. Additionally, you will want to add correlated words such as chocolate, bake, oven, fluffy, moist, beat, whip, silky, temperature, time, kitchen, nutrition, homemade, delicious, etc. These additions connect the associated recipe and words people, or search engines, may be searching as in web indexing methods. Perhaps someone doesn't just search for "Chocolate Cake Recipe," maybe they search for "Delicious, Moist, Fluffy, Homemade Chocolate Cake" and now your listed recipe is now higher ranked over the websites that just had the basics.
Consider the chocolate cake model above with each thing you post, but do not just word-blast your way through it. Be strategic and tactful, and recognize that the internet is still a place for people, with people being first, not just for search engines and software to crawl and pick up. If Google or other search engines begin flagging your site as being spammy or coming across as robotic, you will actually lose ranking.
With these three tips for improving your Search Engine Optimization, you can start improving your website and getting the views, engagement, and eventually, the sales that you are searching for. The sooner you start these, the sooner your site will be found on search engines.
If you're ready to turn your website into a revenue-producing asset, click the link below and let's set up a time to talk. 
---
Increase Brand Awareness and Sales